---
Visit us at booth #431!  And, download our "C&U Tips Sheet" below!
Visit us at booth #431!
And, download our
"C&U Tips Sheet" below!
Your student body is always busy, always on-the-go.  From tests and papers, to attending the "big game," and even participating in sports at all levels, they barely have time to get a decent meal.  When it comes to foodservice, you need to catch them in places outside of your normal venues. This is where our set of quick tips can help you out.  This brief guide will get you thinking "outside of the box."  You'll be able to see hidden, underutilized spaces where you can bring foodservice to new places on your campus. Download it today!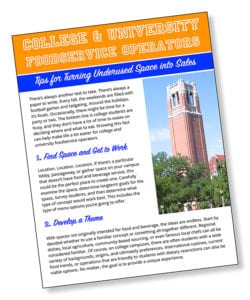 Here's a preview of what you'll see at booth #431!

Check out our other products, services and projects!
---
CORNELL UNIVERSITY CAFÉ JENNIE
The university needed a counter equipment company that could provide design flexibility, was familiar with the fit and finish of high end materials and exterior finishes and one that would complement an attractive, modern interior space.