Overview
---
The university required a complete redesign of their retail dining space to accomplish their goals of improving utilization of space with a high end counter design.
The Challenge
---
The university had a extremely tight timeline to meet their goal of a complete redesign of their retail dining space. The design required flexible equipment options that would provide a wide array of different menu items on a daily basis.
The Multiteria Solution
---
Multiteria was able to manufacturer this large project in a very short time frame, during peak summer demand,  and committed to shipping the complete project in order to maintain a critical opening date for the university.
The design was complex; having numerous curved counter sections and a 75' diameter Mongolian Grill station positioned in the middle of the serving area. Counter sections were delivered to the site, blanket wrapped on air ride trailers, which greatly minimized transport related damage and significantly reduced the number of punch list items for the consultant.  Multiteria also provided installation assistance and field supervision to the building trades to help with the completion and secure the overall success of the project.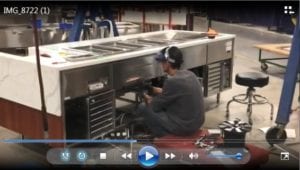 IMG_8722
Resources Used
---
Upscale, modern finishes were applied to the counters
Quartz water fall edges with recessed tray and packaged snack shelves were applied to give this project very contemporary upscale appearance.
Project support to channel partners throughout the process; consultant, dealer along with full factory set up of servery, prior to shipment.
Summary of Project:
Operator: Michael Ernst, Director of Auxiliary Services, UW-Platteville
Consultant – Stewart Design, Madison, WI
Fabricated in Multiteria Facility – West Milwaukee, WI
Sold and installed by Boelter, Milwaukee, WI.
Delivered August 2019, lead time 10 weeks.
Supported on-site by Multiteria factory oversite and factory installation team
Multiteria Large Project design coordination team (with Stewart Design): Mike Egan, Sherie Peterson, Matt Niepow