Overview
---
The space had not been renovated since 1974. Student enrollment has continued to grow and it was necessary to serve more students in less time. Going from four serving lines to five and adding a Bistro was a must! The plan was to be a four phase project. Enrollment had increased and they had to decrease from four lunch periods to three. The only way they could accommodate the increase in students was to add additional serving lines. In the past, students could opt out of lunch. Since the changes, they have been able to capture the additional 200+ students as they are a closed campus.
The Challenge
---
The original area to be turned into a Bistro concept was a dry storage room. Tim, the Multiteria Rep, made the process an easy one by sending different project ideas for review. A new area for dry storage space was found, which would be outside and become part of the building.
The long term goal for the Bistro was to capture student breakfast participation. Staffing was currently an issue, but the plan for the near future was to make it a coffee shop similar to a Panera or Starbucks. With only 70 kids participating in breakfast, they felt the plan would capture breakfast and also give them the ability to operate an after school program selling whole pizzas or something similar to a Subway. The orders would be placed and picked up by students using their lunch accounts, and would provide nutritious food for students participating both in after school drama and athletic programs. The transition has already begun and the school envisions it being successful. There are 180 days with active after school programs and approximately 1 hour to offer food capturing participation.
The Multiteria Solution
---
This project is by far the greatest renovation Castle has done to date! Multiteria solved every issue the school was having. Tim, the Multiteria rep, helped them select a design that provided the ambiance they envisioned. They settled on white countertops with offset 3-form pieces and fell in love with the color palette.
They utilized "owner provided" for their program, therefore all the equipment decisions for the project were purchased in this manner. They worked with rep and dealer to decide on fittings and electrical. The dealer, Steven of C & T Design, worked with the architect to facilitate the project and received glowing reviews. All-in-all, they achieved the goal of not making it feel like a school food service area.
Resources Used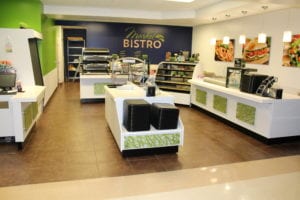 MLT_project_profile_CASTLE_HS_v1PH
---
Essence Counters with Corian countertop in Antarctic
Tray slide countertop extension in same material
Formica laminate selection in Walnut with stainless steel food shields
LED light strip below top
Decorative offset panels with Varia Ecoresin 3Form Material
Laminate Nevamar Bone White