It's a new age in campus dining as several prominent colleges and universities across the country are adopting new revolutionary ways to better serve students. Cashierless grocery stores are popping up at a fast rate as today's generation of students seek faster and frictionless service. Take for example the University of Denver. The institution launched its first cashierless campus grocery store in March 2022 and it's been a massive hit among its student population. 
All students have to do is sign in on their phones through their campus foodservice application to gain access to the store. Once inside, they are watched by 150 cameras that read their every movement while recording the prices of the items they select. The students are then automatically charged as they leave the store. Similarly, Texas State University is also adapting on-campus markets to create faster customer service and to solve labor shortages. 
This revolutionary trend will only continue to expand over the upcoming years, and foodservice operators of colleges and universities must get onboard or risk falling behind. Once onboard, they must invest in the right equipment such as an Essence counter by Multiteria. Why an Essence counter? Two words. Endless versatility. The future is now, so let's dive into three reasons how an Essence beverage counter can play a huge role in the success of a campus's cashierless grocery store.
1. Increased Confidence and Comfort
Remember your first semester in college? Maybe even your first day of high school? It can be a nerve wracking experience full of unexpected obstacles to maneuver around. Nerves are tense as new students try to find their place on campus. For instance, a new student might feel intimidated to go out and eat on campus if the overall experience is unorganized. Instead, they might desire a quick and easy way to access their favorite meal. 
One way a cashierless grocery store instills confidence into students is that it allows for the freedom of self service and choice. It's important to keep in mind that the goal for all colleges, universities, and K-12 foodservice operations is to empower its students through respect and convenience. An Essence utility countertop further enhances comfort and confidence by its customizable appearance. This beverage counter's exterior finish is completely customizable, meaning an operator can include school colors or even the school mascot on the finished product.
2. Expanded Reach within Store
Have you ever gotten frustrated waiting in line just to order a drink? What about when you only have two minutes to get to class and the line has barely moved in a minute. There has to be a way not only to solve this problem, but labor shortages as well, right?
With an Essence café counter, a cashierless grocery store has the ability to offer a wider selection of items anywhere within its premises. An operator's staff won't have to focus on having to constantly restock either as an Essence utility counter's spacious 35-inch wide counter top offers a generous amount of space. These utility countertops are also ultra portable and can be moved to open areas of the store for easier access, leading to more sales as students are able to grab-and-go and be on their way.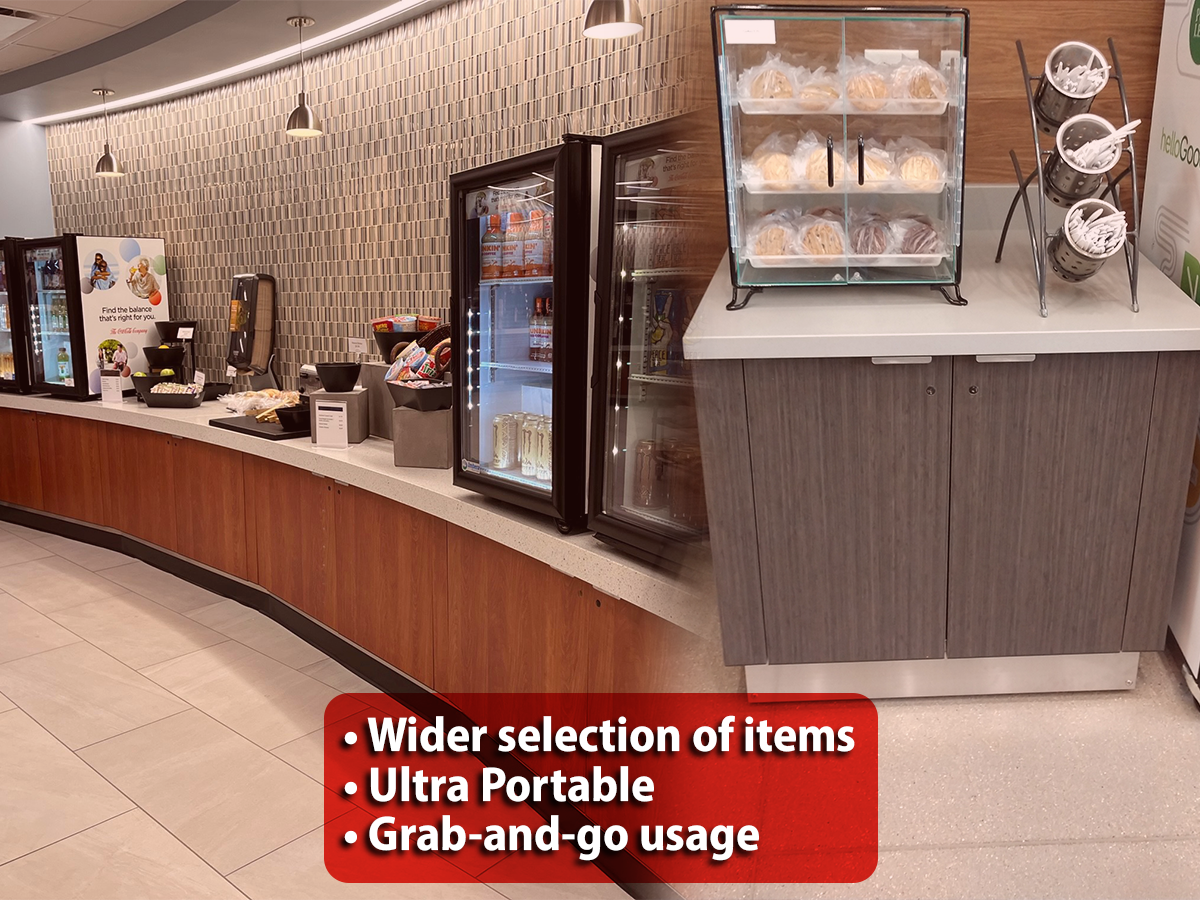 3. Quick Access to Beverage Machines
An essential element to any cashierless grocery store are drink and slush machines. It takes a lot of hard work to be successful in school, and sometimes a student just needs a moment to catch their breath with a nice cold refreshment. For an operator developing or actively operating a cashierless grocery store, drink machines must be a standard. Students need to be afforded quick and efficient access to make the process truly frictionless. 
For a student to effortlessly access a drink machine, a robust utility countertop must be in place underneath to hold it. The café counter also needs to be at a comfortable and accessible height for students to reach. An Essence beverage counter's durable stainless steel tubular frame is able to hold multiple heavy duty drink and slush machines. Its standard counter height of 34-inches provides easy reach, while its optional tray slides offer extended space for self-service.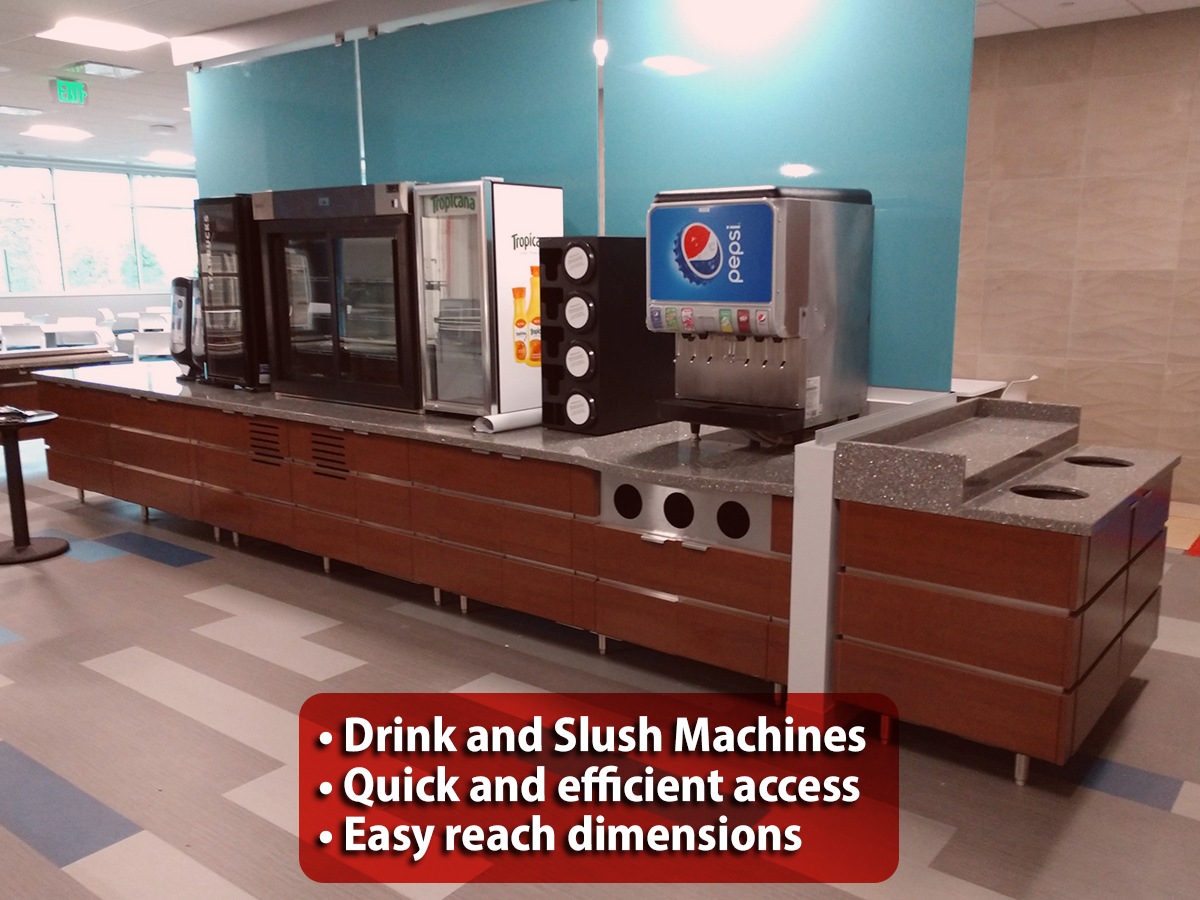 What is the Future of Campus Cashierless Grocery Stores?
So, what will the next year look like for cashierless grocery stores on college campuses? Will they start to expand into K-12 foodservice operations? Only time will tell, but what foodservice operators need to consider when striving to better serve their students is to understand the characteristics of the current generation of students. Once that is figured out, it's off to creating that winning plan that the team of experts here at Multiteria can assist with! Discover the winning solution for an operator by clicking 'Explore the New Age of Essence' below!